Square Dancing

Saturday, Jan 29, 2022

7:30 – 11:30pm

With Caller Tom Sellner

Hey folks, swing your partner and do-si-do. Let your hair down and come experience a fun evening of square dancing with Tom Sellner. Tom has a lifetime of experience as a Caller, Caller Coach and Square Dance Instructor. Casual dress (but do wear dance or leather soled shoes). No experience, no partner, and no group of eight needed!
This dance is designed for "First Timers"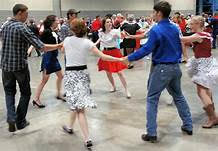 Square dance 'tips' (sessions) are about 15-20 minutes long with dance being fairly continuous.
In between these sessions, Tom will be playing about 10 minutes of various ballroom music, allowing a short break with time for dancers to switch in and out of squares if desired, etc.
Tom will also use some dance 'mixers' (traditionally called circles).
Sounds like this will be a lot of fun! Come and join us!
Only $15 pp for a fun-filled evening!
Vaccination Required.