Square and Ballroom Dancing

Saturday, May 7, 2022

7:30 – 11:30pm

With Caller and DJ Tom Sellner

Hey folks, swing your partner and do-si-do. Let your hair down and come experience a fun evening of square dancing with Tom Sellner. Tom has a lifetime of experience as a Caller, Caller Coach and Square Dance Instructor. Casual dress (but do wear dance or leather soled shoes). No experience, no partner, and no group of eight needed!

7:30 to 9:30pm Square Dancing, with ballroom dancing between Square Dancing sets

9:30 to 11:30pm Ballroom Dancing
This dance is designed for "First Timers"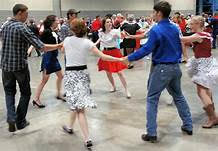 Square dance 'tips' (sessions) are about 15-20 minutes long.
In between these sessions, Tom will be playing about 10 minutes of various ballroom music, allowing a short break with time for dancers to switch in and out of squares if desired, etc.
Tom will also use some dance 'mixers' (traditionally called circles).
Everyone had a great time in January!
Come and join us for more fun!
Only $15 pp for the evening!
Vaccination required.